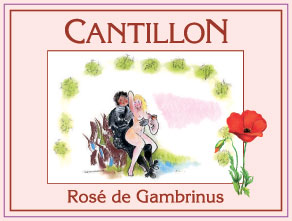 This will be a new feature at FreeOurBeer.org: Unavailable Beer of the Month.  This column will feature different beers from around the world that are unavailable for sale in Ontario, but might possibly be available under a private retail system if we had one.
Today I'm tasting a beer from one of the most famous breweries in the world – Cantillon.  Cantillon, located in Brussels, Belgium is renowned for their traditional lambic beers.  Lambics are truly a unique style and certainly one of my favourites.
The beer I'm trying is Rose de Gambrinus, a lambic flavoured with raspberries.  Unlike most of the lambic versions that the LCBO releases (such as Chapeau Kriek which is part of the current summer release), Cantillon's are much more "traditional" in style – very sour and tart rather than sweet and 'poppy'.  To some it can be an acquired taste!  The beer pours with only a slight amount of carbonation and no head.  It's got a rich fruit flavour and an intense sourness upon sipping.  I love sour fruit and especially sour beers, and this one is one of my favourites.
This particular bottle I acquired during the famous Cantillon private order from 2003/2004.  What made this order famous is that the Cantillon Kriek was rejected for sale in Ontario due to the presence of a chemical which is acceptable in wine but not in beer.  The challenges that Cantillon were faced with has led to there not being any more private orders offered to the public since.  To my knowledge Cantillon has never been available for retail sale in Ontario.  One can, however, have Cantillon at beerbistro, who secured a private order for themselves recently.  Cantillon is regularly available for retail sale in the U.S., and can be found at Premier Gourmet in Buffalo.  
Rose de Gambrinus is representative of one of the most unique styles of beer in the world.  Under a private retail system which favours beer aficionados, this one would undoubtedly be a big hit.  Alas, as things stand right now, it is unavailable to buy and enjoy at home.