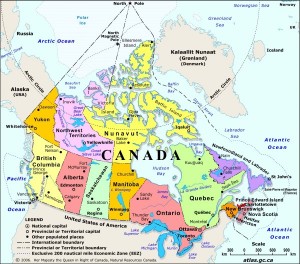 One of the often overlooked problems with our beer system in Ontario is how the rest of our great country is generally omitted. To a casual beer drinker in Ontario, the craft beer selection consists of beers from Ontario and the rest of the world. Not, however, from the rest of Canada.
Canada has thriving microbreweries from coast to coast. Unfortunately, as an Ontario beer drinker you will rarely, if ever, have an opportunity to discover what is beyond our provincial borders, unless you physically travel out of province. The LCBO and The Beer Store simply do not offer any substantial selection from outside of Ontario.
Let's look at the numbers for a second. The LCBO claims on its web site to offer 340 brands of beer. From a more detailed seach, the LCBO offers 15 total craft beer brands from outside of Ontario:
Alberta: Big Rock Traditional, Warthog, Grasshopper and Pale Ale
Quebec: Belle Gueule; Unibroue Blanche de Chambly, Maudite, Ephemere Apple, Fin du Monde; McAuslan Griffon Extra Pale, Griffon Red, St Ambroise Oatmeal Stout, St Ambroise Pale, Apricot Wheat; Messagere
15 beers. 5 breweries. 4% of the LCBO's 340 brands available. Pretty sad. The Beer Store isn't any better.
Where's Tree or Spinnakers from British Columbia? Alley Kat from Alberta? Half Pints from Manitoba? Garrison and Propeller from Nova Scotia? Dieu du Ciel and La Barberie from Quebec? You have to get them in their home provinces. Taxation and trade barriers are certainly a problem – there is a lot of evidence about how provinces treat beers from within Canada but outside the home province as foreign and are therefore taxed and governed by a different set of rules.
Aside from the odd one-off release at the LCBO, out-of-province beers are an extreme rarity. Similar to the perception of U.S. craft beers, if you asked a casual drinker they probably would not even know there were interesting beers in other provinces.
In Ontario, we like to support our own brewers, and of course the major international ones. Unfortunately this support is not extended to craft brewers from the other nine provinces. That's a damn shame.