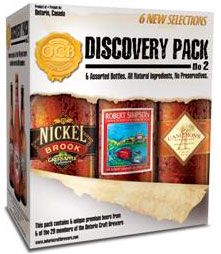 In today's Toronto Star, Josh Rubin has written an article about the latest Ontario Craft Brewers' Discovery Pack.  This pack, the second one to be released, is a special six-pack with different beers from a number of Ontario craft breweries.  Sold exclusively at the LCBO, the first one was a success and it's hoped that the second one will be too.
What's interesting is the comments made in the article by Lisa Dunbar, marketing director at the Ontario Craft Brewers.  According to the article, she says that The Beer Store "just doesn't do as good a job selling craft beer" and that "it can be prohibitively expensive for small breweries to list their products there".  She goes on to say that the LCBO "is just a stronger partner for us".
It is great to see someone like Ms. Dunbar come out and discuss some of the challenges that small breweries have with The Beer Store.  It is a shame that in Ontario a mix-pack of locally-produced beers would not be successful in our largest beer retailer.  It is important that Ontarians understand that The Beer Store is set up to meet the interests of large, mass-produced beers, not small, local craft brews.