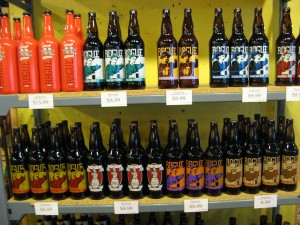 Nova Scotia has a provincial liquor commission that operates retail stores similar to Ontario, called the Nova Scotia Liquor Corporation, or NSLC.  Their stores do a fine job of providing a range of wine, spirits and beer to consumers.  For a province of about 1 million, there isn't a huge market for specialty products, or so one might think.  But the province has been very forward-thinking to allow for specialty products regardless of the size of their market.
Over five years ago the NSLC implemented the Private Wine and Specialty Store Program, which does just what it says – allow for private stores.  The original objectives of the program was to improve service and selection to consumers and provide an opportunity for small business.  What this program gives residents of Nova Scotia is more choice.  There are still NSLC stores that service the province, but there are also private stores such as Premier Wine and Spirits and Bishop's Cellar that have opened offering consumers greater selection.  The program has been successful, and the government renewed the program for a second five-year term in 2007.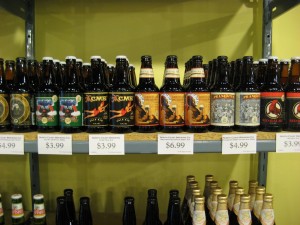 A recent trip to Premier Wine and Spirits in downtown Halifax demonstrated that no matter how small a market size, when specialty beer selection is permitted niche stores can succeed.  Premier offers a full range of Rogue beers, both their specialty and regular offerings.  North Coast was also available, in both single bottles and six-packs.  Flying Dog was available too, as was a couple of brands of Dieu du Ciel.  With the exception of Rogue Dead Guy Ale, none of these beers are regularly available in Ontario.  I don't think North Coast has ever seen the insides of the borders of Ontario.
Generally speaking the selection of beer in Ontario does top Nova Scotia, due to the sheer size of this market compared to the Maritimes.  But it is fabulous to see a provincial government allowing private retail along side their own – something that we at Free Our Beer completely support.  The Nova Scotia government still operates all NSLC stores and more importantly, collects taxes on liquor.  But consumers win as they have greater selection, and entrepreneurs win as it is possible to set up specialty stores to satisfy niche markets.  Take note Government of Ontario.