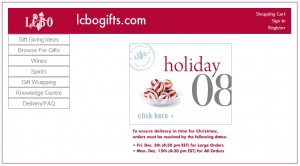 Did you know that the LCBO offers alcohol purchase and delivery online?  I'm not sure if many people do, and it's certainly not something that the LCBO makes a big deal of – there doesn't seem to be any links to it from their main web site.  But at LCBOgifts.com, you can order select wine, spirits and beer online for delivery to your home.
I'm really not sure what to make of this site.  Its primary focus is encouraging gift giving, rather than simply buying booze for yourself, although non-gift set items may be purchased.  It is an extremely simplistic site – basic navigation and hardly any information about the products that are being offered.
From a beer standpoint, it's pretty non-existent – 17 beer items are available for sale – a few gift packs (for example, the Historic Ales of Scotland) and some random 6-packs and singles.  Any serious beer fan probably wouldn't actually order anything from the site – the selection is much greater at any decent store location.
So what's the deal with LCBOgifts.com?  It feels like something that's all too familiar with alcohol in Ontario – I call it the "just enough" strategy.  We've seen it before – the LCBO does "just enough" to answer a criticism and thereby not highlight the issue.  Take Trappist ales for example – the LCBO could be criticized for not having many Trappists.  But they do have Chimay and the odd other one through seasonal releases – thereby diffusing the issue.
It is obvious that few resources are being put into LCBOgifts.com.  The site experience is bland, the selection is terrible and it is not promoted anywhere.  Perhaps the LCBO is testing the market to see if e-commerce is something they want to invest more in.  Or perhaps its being left to die to prove that e-commerce isn't a worthwhile for the LCBO.
The advent of e-commerce has brought selection and shopping options across a wide range of industries like never before.  This is unfortunately not the case with beer.  It is commendable that the LCBO is making an attempt – the same cannot be said for The Beer Store which has no e-commerce whatsoever.  But our beer system locks down e-commerce just like traditional retail.  Unless we push for change, we won't see any specialty beer stores online, just like we won't see any on the street, anytime soon.