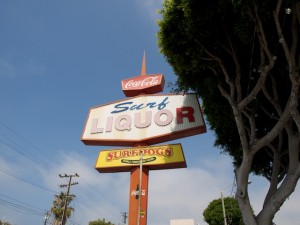 It's been a little while since my last post, so it's good to be back.  This one is about a little place you might have heard of called California.
California is the most populous state in the U.S. and home to much glamourous American culture – Los Angeles, Hollywood, San Francisco, Napa Valley, etc.  I was able to visit for a week to L.A. in August of this year and was impressed.  I'd love to go back and hope to do so again.
California is also home to a significant wine scene, which you've most certainly heard of, but also a thriving beer scene, which you may not have heard of.  Two of the pioneers of craft beer have are from California – there's the legendary Anchor brewery in San Francisco, famously saved in the 60s by Fritz Maytag, and one of the first microbreweries, Sierra Nevada in Chico.
In recent years California has seen an explosion from in the craft beer scene from across the state – AleSmith in San Diego, Lost Abbey in San Marcos, Stone in Escondido, North Coast in Fort Bragg and Russian River in Santa Rosa.  These breweries make big, bold and exciting beers, some of the finest in the U.S.
What's a shame for Ontario beer drinkers, if you haven't guessed by now, is that you wouldn't know that these fantastic beers even exist when you go into your local Beer Store or LCBO.  The U.S. in general is significantly under-represented in the Ontario market, but California is especially so.
Now I know it's a futile exercise to compare wine and beer when it comes to the LCBO.  The LCBO's primary mandate is wine and spirits; beer is generally an afterthought.  But the LCBO offers precisely two California beers – Anchor Steam Beer (in a six-pack) and Anchor Liberty Ale (in a 650mL bottle).  They have been offered by the LCBO for a few years now, although Steam was de-listed a couple of years ago and brought back again.  The Beer Store does not support U.S. microbreweries and I don't believe any are available there.
What is frustrating is that if one does a search for California wines on the LCBO's web site, it returns 677 results!  One would have to assume that these results reflect the vast spectrum of California wines – different styles, regions and and quality.  This accounts for the vast majority of wine imported from the United States. The LCBO has even recently launched a "California Style" promotion that features, of course, exclusively wines.
Safe to say then that the Ontario marketplace of wine drinkers are certainly fond of California wines.  And no doubt that California's "cool" helps push the region too.  But why no microbrewery love?  A scan of upcoming beers available through the LCBO reveals no California beers.  There is a U.S. micro-specific release in spring 2009 but no details have surfaced yet.  Even Roland + Russell, who have been doing a remarkable job of offering unique beers from around the world through private importing, do not offer any California beers.
Do the brewers of California not want to deal with Ontario, or do the drinkers of Ontario not care for Californian beers?  I would think that if given the opportunity beer lovers in Ontario would embrace the remarkable beers from California.
As we progress through fall in Ontario, and all the leaves are brown and the sky is grey, I'm still dreamin' of California beers.